By making your office tools portable, it increases efficiency, productivity and it helps to ensure your company will remain ahead of the competition! You will have total access and control of your campaign. Most of the features that are available on our PC version are also available on your mobile applications:
Commission Reports
Real-Time Sales Reports
Statistical Reports such as Top 10 agents and IBO's
Sales Production Reports that reflect the sales at the campaign level
Pricing Forms
Newsfeed
All Training and Promotional Materials
Audio Files
Co-Pilot
Blogs
Contest Results and Tracking
Update Profile
Scanning of Inventory and Inventory Control Modules
Onboard New Agents via your very own mobile app
Meet the Team
Newsletter Applications
More!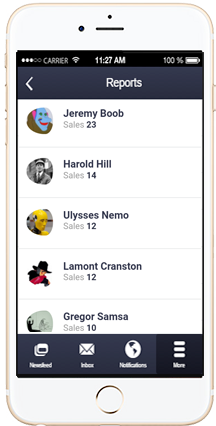 Whether you are commuting to work and want to check daily reports and messages, want to a training document during a meeting or onboarding a new sales agent, the TerriBite™ mobile app will meet all your needs when you are on the move.